In this article, we provide general information about cross-docking overview, as well as how to access and work with it.
What is cross-docking?
Equipment tracking Add-on
Cross-docking is a process to speed up the booking and preparation of equipment for different (sub)projects.
In cross-docking, equipment is loaded, unloaded, and transferred between different modes of transport, for example, between a truck, a semi-trailer, and a railroad car. Cross-docking typically means that specific pieces of equipment do not need to be stored; therefore, there is minimal handling or storage time.
Rentman's cross-docking overview
Rentman's cross-docking overview provides an unified summary of all the items leaving or returning to the warehouse in the next 12, 24, or 48 hours.
You can use this overview to effectively save significant amounts of time and energy in your warehouse.
Cross-docking provides the following advantages:
Quick equipment movement: It allows for swift movement of equipment in and out of your warehouse since it creates a clear overview of how many items you need to pick apart and keep in a place where they can be easily accessible for the nearest jobs.
Time-saving processing: By reducing redundant tasks and streamlining operations, cross-docking significantly shortens processing time, enabling faster order fulfillment and improved productivity.
Error prevention: Cross-docking helps prevent mistakes, such as retrieving incorrect equipment from your inventory. By optimizing the movement process, it enhances accuracy and minimizes the risk of errors.

Maintaining real-time communication with your crew: Using cross-docking, you can effortlessly share all your findings and updates with your crew members. Create notes directly from the cross-docking overview for a specific (sub)project, and your crew can access these notes later through their accounts both on the web and Zebra devices. This ensures that your team stays up-to-date and informed throughout the project.
In summary, cross-docking helps move equipment swiftly, saves time by eliminating unnecessary steps, and ensures accuracy in warehouse operations.
Note: This feature is only available with Rentman's Equipment Tracking add-onEquipment Tracking. If you're on a Legacy plan or do not have access to this product, you will need to upgrade your plan.
For low-maintenance items like chairs and cables, cross-docking offers significant benefits, as these items can be promptly booked out without the need to return them to warehouse shelves.
Example: Consider a scenario in which a project with 400 chairs returns to the warehouse at 10:00 and another project with 350 chairs leaves the warehouse at 11:00. With cross-docking overview, you won't need to put all those 400 chairs in the warehouse just to have them packed in an hour for another project. Only 50 of the chairs need to be put back in your warehouse, and the other 350 can be quickly cleaned and prepared for the next project.
Cross-docking overview layout
When you first open the cross-docking overview in your Rentman workspace, you see five default columns:
Code: the equipment code in the database
Name: the name of the equipment in the database
Amount returning: the number of items that are returning to the warehouse
Overlap: the overlap between the number of items returning to and leaving the warehouse
Amount leaving: the number of items that are leaving the warehouse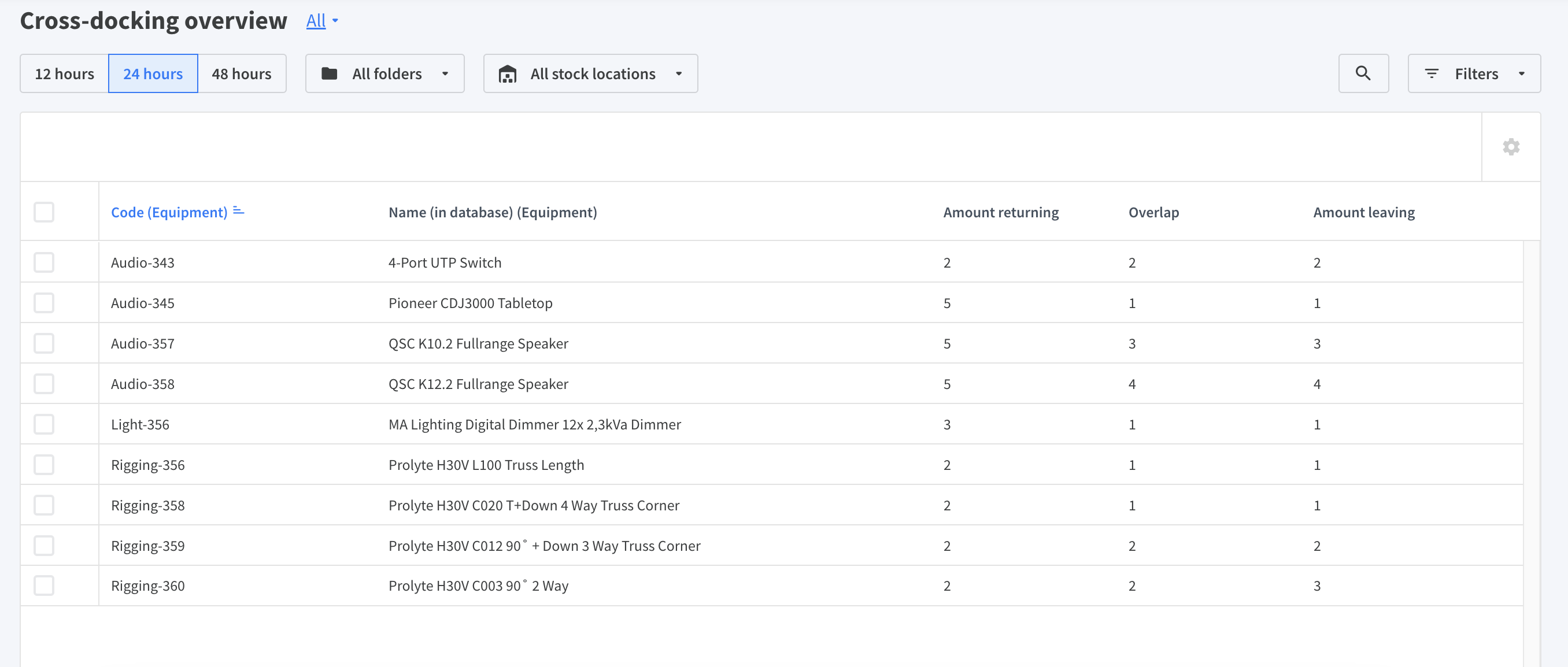 How to work with the cross-docking overview
To access the cross-docking overview in your Rentman account:
Navigate to the group_work Warehouse module
From the menu, select Cross-docking overview
(Optional) Personalize your cross-docking overview by adding or removing columns and selecting the preferred time period (12h, 24h, or 48h), and filter by folder structure, stock location, and filters.
Cross-docking details sidebar
You can access additional information about the (sub)projects where an item is planned by viewing the details sidebar of the item.
To open the details sidebar of an item:
Select an item and click on
In the details pane that appears, you can see more details about the number of equipment leaving or returning to your warehouse on a (sub)project level.

Cross-docking timeline
The cross-docking timeline offers valuable information about the number of items leaving or returning to your warehouse divided by (sub)project and organized by time. This is especially useful when you have many (sub)projects and need detailed information about what items are leaving or entering your warehouse and plan accordingly. You can use the cross-docking timeline to determine exactly how long you need to leave your equipment at the cross-docking area.
To open the cross-docking timeline:
Select your equipment (you can select multiple).
Click on watch_later Open timeline.
In the timeline, click on a (sub)project to open the details pane.
(Optional) Hover over a (sub)project in the timeline to see additional information about that (sub)project.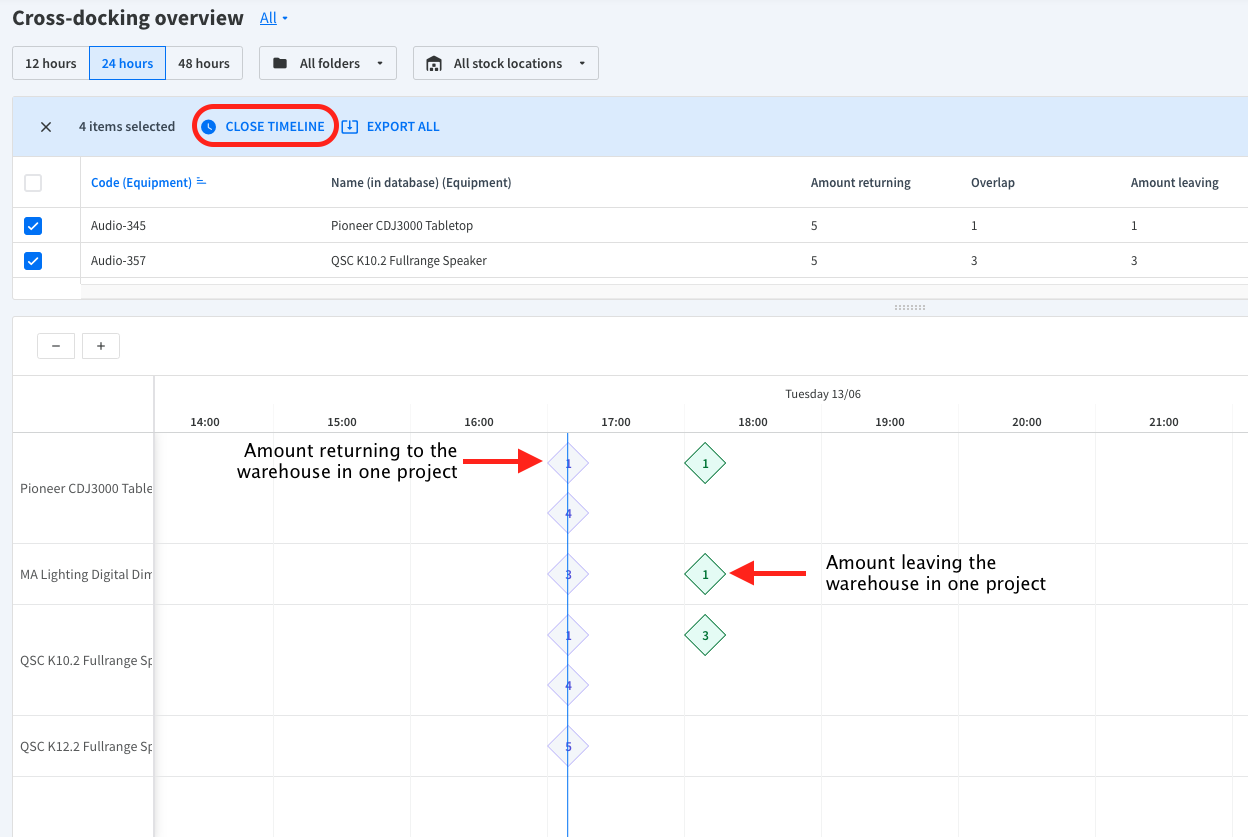 Leave notes in the cross-docking overview for your crew members
Using notes, you can communicate with your warehouse crew. You could, for example, write a note to your crew members informing them that they need to leave some of the items coming back to the warehouse in the cross-docking area to be prepped for an upcoming project instead of storing them on warehouse shelves.
Open the details pane of an item.
Select a (sub)project and click on
In the window that pops up, add a name for the note.
Type in your note.
Select if you want the note to be visible to everyone or only to the account managers.
Choose where you want the note to be displayed (details sidebar, warehouse, schedule, etc.).
Click on

Save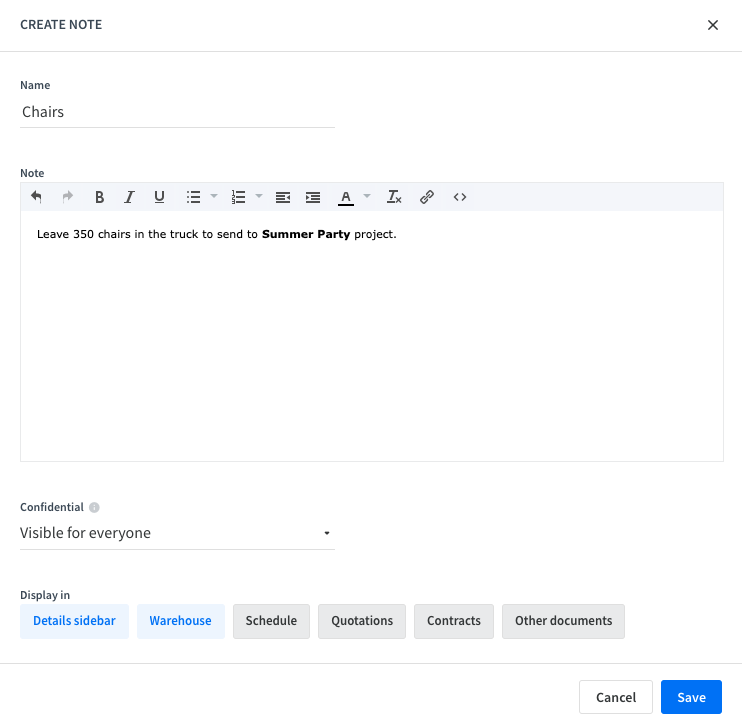 FAQs
I cannot see my virtual combination in the cross-docking overview. Why?
Cross-docking overview only shows a virtual combination's content. For example, if you have a virtual combination named "DJ kit" with a mixer, two full-range speakers, and an amplifier, you will not be able to see the "DJ kit" in the cross-docking overview, but you can see the content of that virtual combination in your overview.