We are always ready to help out and answer your questions, whether you're just getting started or you've already been using Rentman for a while. Let's talk about all the ways in which we can help you!
-
Video tutorials
Our video tutorials are the quickest way to learn Rentman. They are useful for new users, or anyone who is looking for a refresher. Click on the link above to see all of our videos, or:
Are you new to Rentman? Start with: How to add a project.
Support Center
This Support Center is the go-to place for step-by-step instructions and more information on our features and workflows. You can use the search bar on the homepage, or explore our three main categories:
Getting Started


New to Rentman, or considering using it? Our introduction helps you understand our software and its features. Our video tutorials and quick start guides are useful to get familiar, and you'll find information about our licenses.

Setting Up


Ready to start, and set up your account? Our checklist is a good place to start, and helps you to configure Rentman to match the workflows of you and your team. Being well-prepared can save a lot of time in the future.

Using Rentman


Looking for information about a specific topic? Here you will find articles about the various modules and functionalities within Rentman.
Support through Rentman's Support Center
You can login to Rentman's support center using your Rentman login details. This is a useful tool that enables you to access your ticket history, making it easy for you to locate previous explanations and information. Additionally, it offers a more secure and convenient method for uploading attachments to tickets, which is a more reliable alternative to sending them via email.
Login to Rentman's support center
Navigate to the Rentman's support center.
At the top right corner of the window, click on Sign in and choose Continue with your Rentman login.
Login with your main Rentman account details.
Submit a new request
By logging into Rentman's support center, you can submit new requests directly when you need help. Each request creates a new ticket for our support team.
To submit a new request:
On the top right corner of the page, click on Submit a request button.

Fill in the Subject. Based on the keywords provided in the subject, the support center may recommend several relevant articles.

Fill in the Description of the request.

(Optional) Specify the account and browser you're using and attach any relevant documents such as screenshots or screen recordings. Filling in the optional information helps our support team to process your requests more quickly. Note: For data security purposes, please always send any files and documents through Rentman's support center and refrain from sending them via email.

Click on Submit.
After submitting your request, you will receive a confirmation and a set of additional suggestions to assist you in finding an answer to your question. If these suggestions address your question, you have the option to close the ticket. If not, our support team will contact you as soon as possible.

Note: Once you decide to close your request, Rentman's support team will not be able to see your request, and therefore, you will not receive a reply.
Access existing tickets
You can get an overview of all the tickets and request you submit through Rentman's support center.
To see existing tickets or requests:
Click on your name in the upper right corner.
From the menu, select My activities.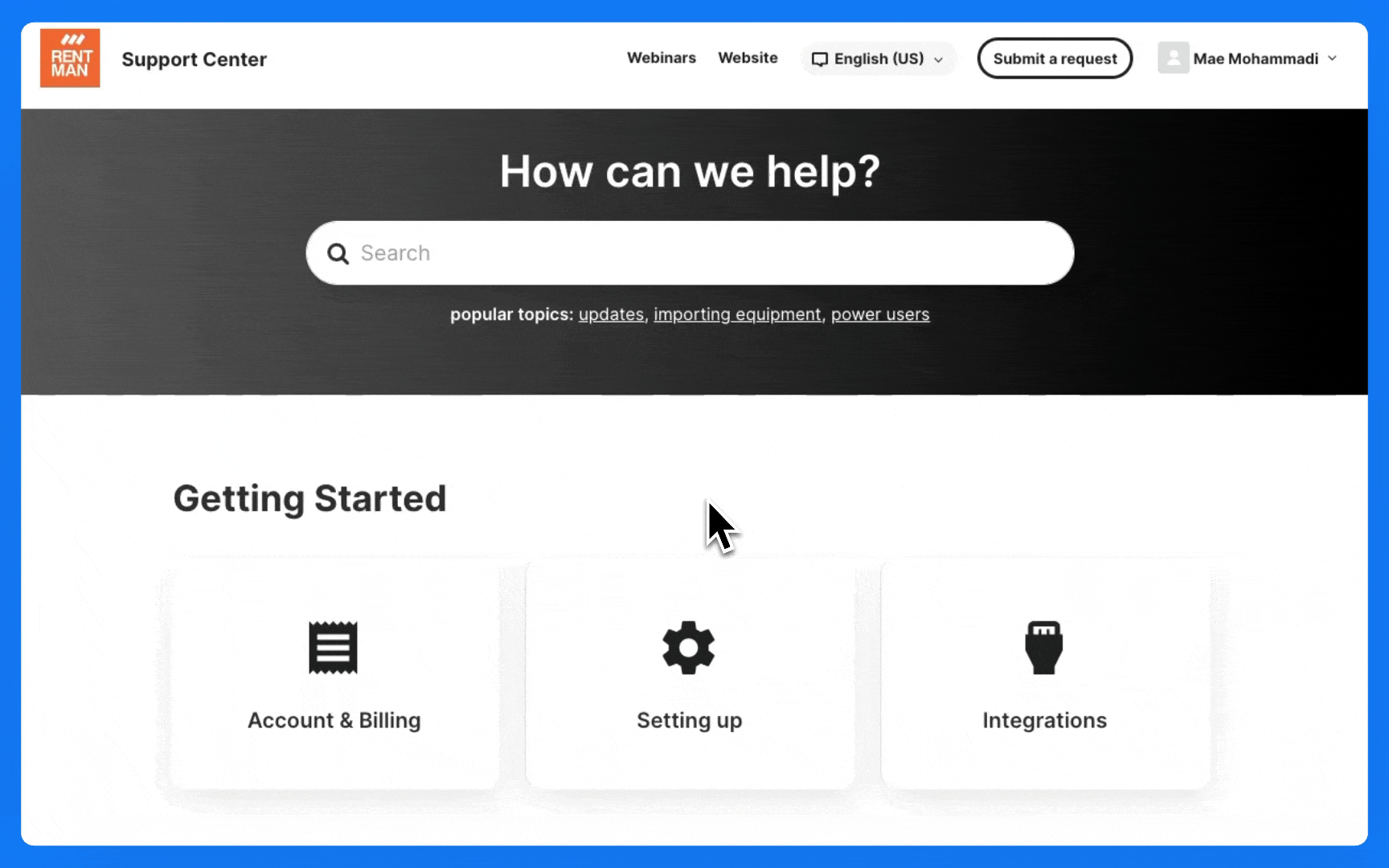 Here, you can have an overview of all of your requests and tickets, contributions, and following.
Under
Requests
, you can see all your requests and tickets. You can see the requests that you have been CC'd on. You also have the option to search your tickets and filter by status.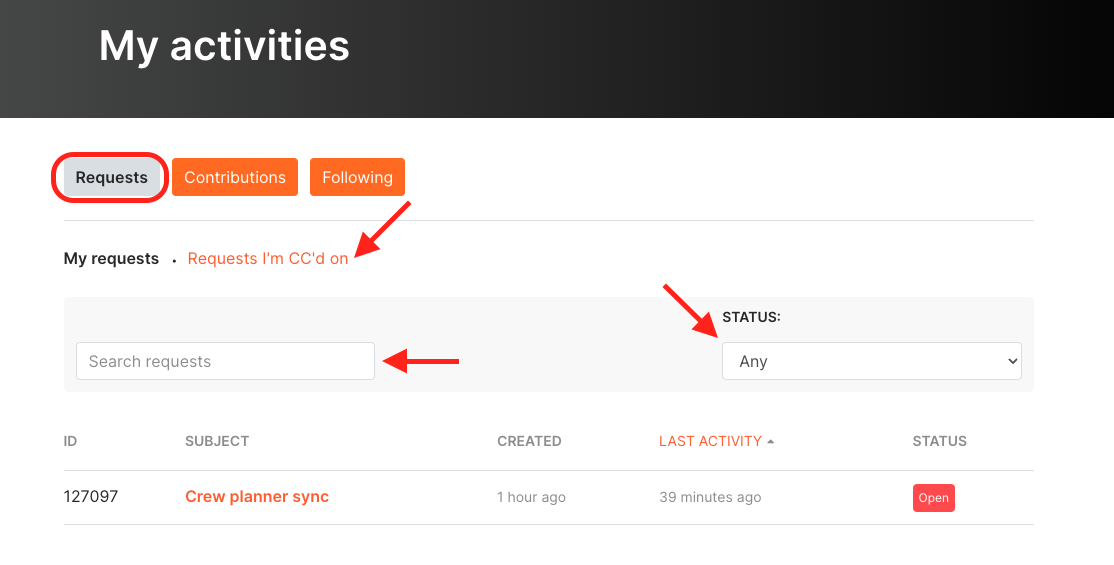 There are three statuses for requests:
Open - The support team is working to resolve the request.
Awaiting your reply - The support team is waiting for your reply.
Solved - The request was resolved.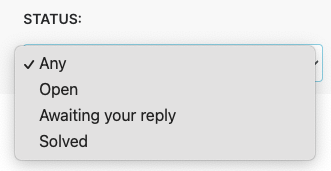 Currently, Rentman's support center does not include a community, which means you are unable to engage or contribute to the Rentman support center at this time.
In the
Following
tab, you can view and modify all your subscriptions.
You have the option to follow specific sections and articles in the support center. When you decide to follow content, you essentially subscribe to it, and this triggers email notifications whenever new articles are introduced. Please note that you won't receive notifications for changes made within an article itself.
To follow a section or an article, navigate to the section or article you want to follow and click
Follow
.
You can stop following content at any time.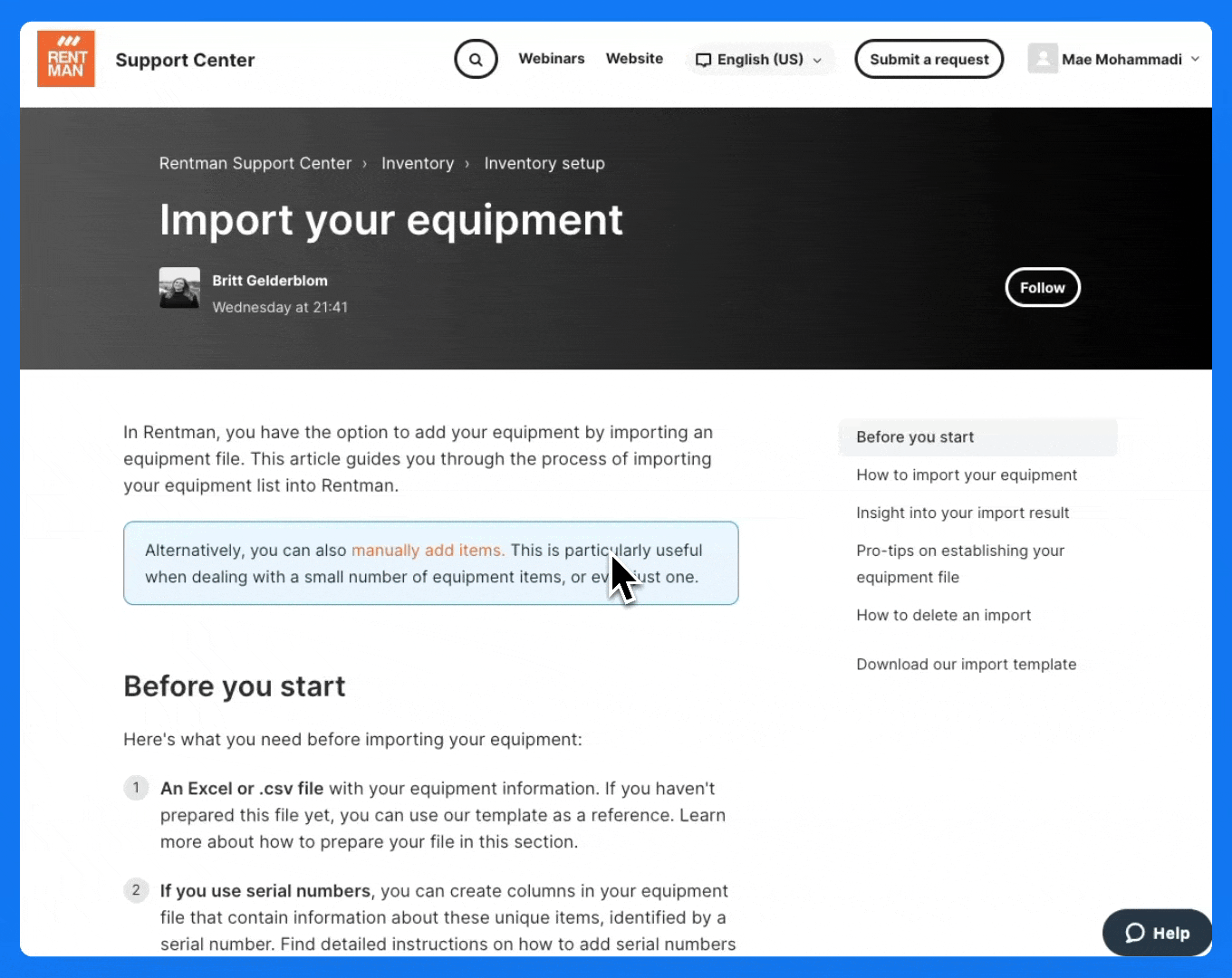 Note: If a section you're tracking contains further subsections, you'll need to follow those individual subsections as well to receive notifications about them.
Update or reply to requests
You can directly update or reply to requests from My activities:
Navigate to the My activities page.
Under Requests, select the request you want to update or reply to.
Write what you want to add or reply to the support team's response. You can also attach files if necessary.
Click on Submit.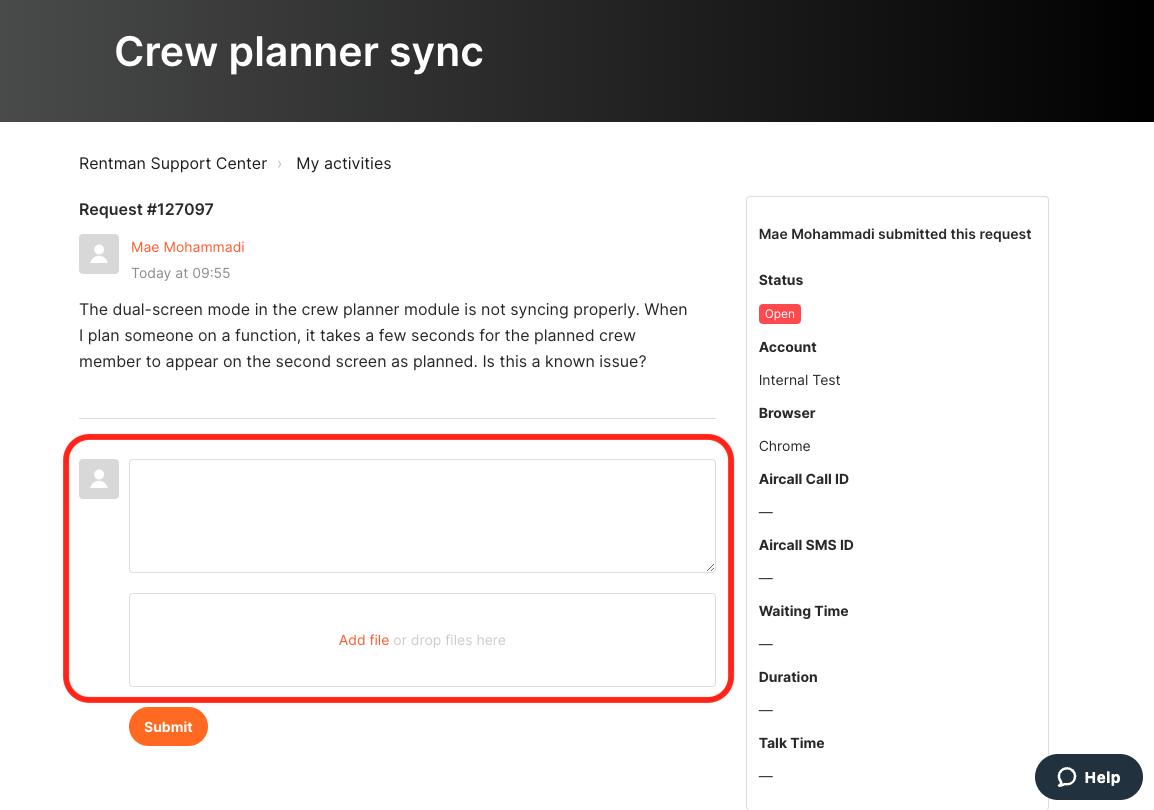 Email and phone support
If you can't find the answer you need in our Support Center, our support team is always ready to help you. Our email and phone support is free of charge, and we are happy to help you out.
Public Roadmap
What feature would improve Rentman for you? You can share your input on the Rentman Public Roadmap! The Public Roadmap is a great tool to see what features are we investigating, what are we working on at the moment, and what have we launched. Click on a feature to see a description, report how important would this feature be for you and add a written input too.​

Clicking on the big blue "+" button on the bottom left corner​ of the page, you will also be able to report new ideas. When you do, add an explanation about the issue this feature would solve. This way, the Product team can have a clearer picture when they review it.
Curious how we use your feedback and build features for Rentman? Read our blog post to learn more about all phases of development, from receiving a wish to planning a functionality and implementation by our developers.
Product updates
We regularly improve Rentman with new functionalities. Stay up to date with our newest features on our Product Updates page.
System status
Rentman has had an uptime of 99,99% across the past two years. In the unlikely event that you experience connection issues, check our status page.