Filters are useful to search or narrow down the selection within a module. For example, use them to find a specific contact/invoice, or narrow down the selection of projects/equipment items. By creating presets, you can instantly switch between different filter selections at any time.
In this article, we summarize various filter options.
.
Filters
To add a filter:
Click in the top right on filter_list Filters expand_more
Choose a filter from the list.
Click

Add
Any custom filter that you add is immediately active. To disable it, you need to delete it at the top of the table or click on "Clear all filters" in filter_list Filters expand_more.
Here are some examples of useful filters you can use in different modules:
All confirmed projects.
All projects of accountmanager X.
All contacts with open tasks.
All projects with unplanned crew functions.
All equipment in repair.
Date selection
Use the date selection to choose the timeframe of the elements you want to see displayed. Select "Start/end" to choose a period between specific dates or select a time period by clicking on one of the other options.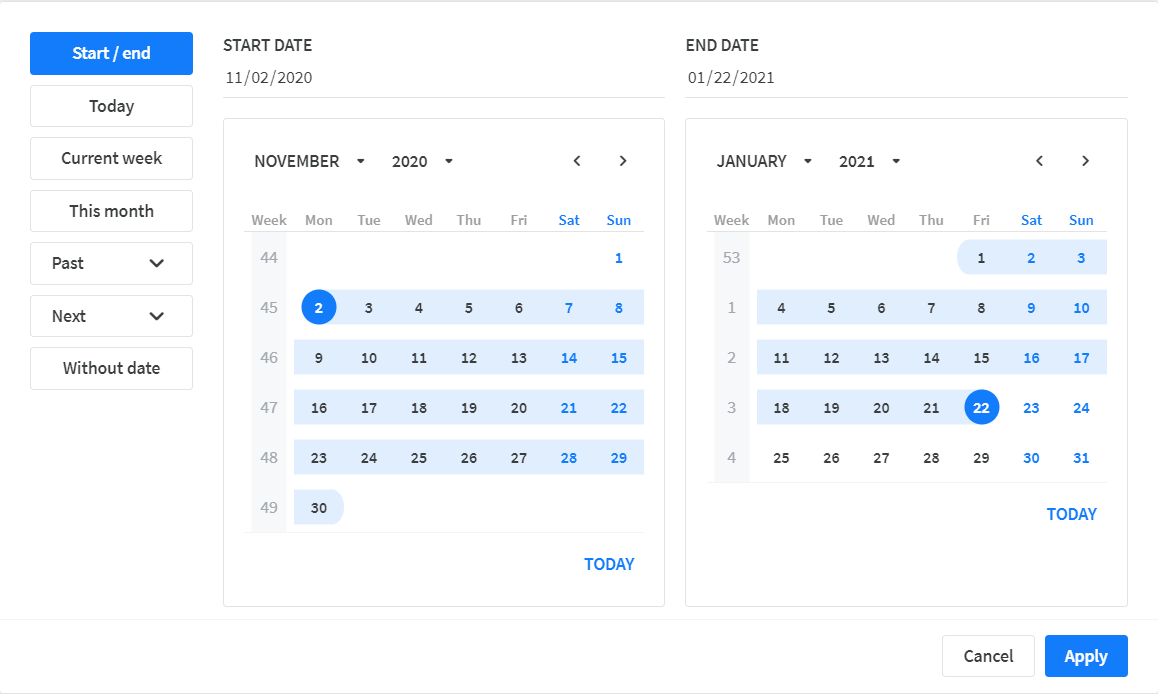 In the Project overview, you can also select projects without dates.
Tags
Tags are labels that you can use to group your projects, equipment items, contacts, crew members, vehicles, invoices and tasks. First, you add a tag to your item(s) in a module. Afterwards, you can filter the shown items in a module by selecting your tag in the top right at label Tags expand_more.
Using presets
A preset is a collection of selected filters and tags. They allow you to instantly switch between active filters, to find what you're looking for in any situation. Rentman's dashboard also features presets, which will redirect you to the relevant module when clicked on.
Create a new preset
Apply all filters you want to add to the preset.
Next to the name of the module, choose "No preset selected"
Choose Save Preset
Enter a name

Save




Next to the modules name in the top left corner, you are able to select your preset.