In this article, we cover the four available licenses for Rentman. These are: Pro, Classic, Lite, and Enterprise. Additionally, this article covers options for the free trial of Rentman.-
General information
Why does Rentman offer different licenses?
Rentman is offered in multiple different licenses to fit different types and sizes of companies. Companies who want to save as much time as possible and make use of the full system can use the Pro license.
The Classic license is ideal for companies with fewer requirements for crew planning and don't need to subrent equipment.
Our Lite license offers all the important basics for a small monthly price, ideal for freelancers with their own equipment.
What level of support is included in each license?
All Rentman licenses include customer support. However, there are differences between the type of support that is offered for each licence.
Online Support Center
Available for:
An easy-to-navigate online manual for using Rentman, consisting of written articles with step-by-step how-to's, videos, gifs and explanations. The articles are organized in different categories, most notably separated in the setting up of Rentman, and its functionalities when using Rentman on a daily basis.
E-mail support

Available for:
Is included in all licenses and is answered during Dutch business hours. Often we reply within 1 hour, with a maximum of 1 day.
Phone support

Available for:
Is offered by product experts directly in contact with the product team and backed up by developers when needed. Phone support is available during Central European Time business hours.
Differences between the licenses
The following overview gives a short introduction on each license and adds information to the overview on the pricing page.
For a complete overview of the differences between the four licenses, please see the pricing page on our website.
Pro
The Pro license is the full Rentman package for professional companies. Pro offers the following functionalities more than the Classic.
Extended statistics
The poll Statistics module offers a full insight in the data and history of your Rentman account. Statistics can be applied to crew members, projects, project types, equipment, contacts (customers/suppliers), vehicles, invoices and account managers. The statistics gives options to important questions to base important decisions on. Questions that can be answered include:

Which projects, account managers, contacts or project types brought in the most revenue and profit?

Which equipment was used or subrented most?

Which crew members worked most?
Webshop connection
Connect Rentman to your webshop. With the webshop connection equipment in your Rentman account can be uploaded with information and images to your webshop. Your customers can choose equipment from your webshop for a date and create an order. This order is directly added as project into your account for you to follow up.
Subprojects
Projects can be split into multiple subprojects with this functionality. Each subproject is connected to the main project but can contain its own times, location, equipment, crew, transport and more. Subprojects can be used to work with:

Tours with multiple stops. Each stop gets its own subproject. A stop can easily be duplicated to create a new stop. Each stop can be quoted separately.

Large events with multiple stages/venues, each with its own equipment and crew.

Making a distinction between the quotation and the actual planning by making a duplicate subproject when the quotation has been confirmed and use one subproject as planning and one as financial subproject.

Additional equipment added after the quotation has been signed and needs to be separately invoiced.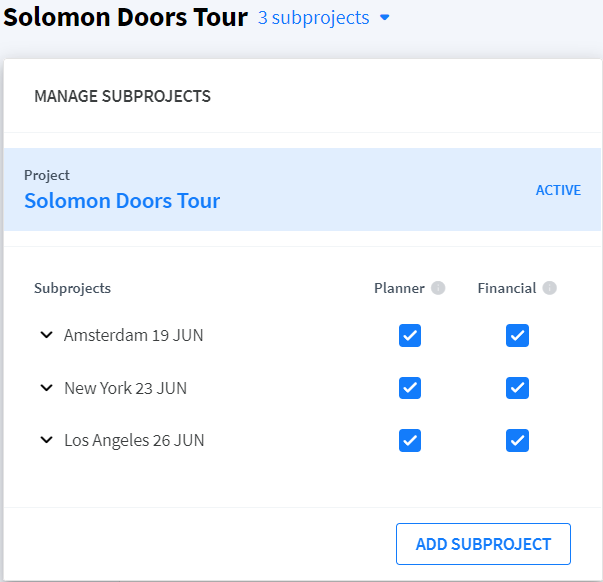 Equipment subrental
Subrenting makes it possible to create and manage subrent projects. The swap_horizontal_circle Subrent module offers an overview of all shortages and a list of all subrents created. Subrents can be created both from a project and from the swap_horizontal_circle Subrent module and can be sent digitally to other Rentman users. Subrenting increases the stock for a certain period of time so shortages can be solved.

Equipment inspections
The inspections functionality shows what equipment needs to be inspected, makes it possible to plan the inspection and add information on equipment that has been inspected.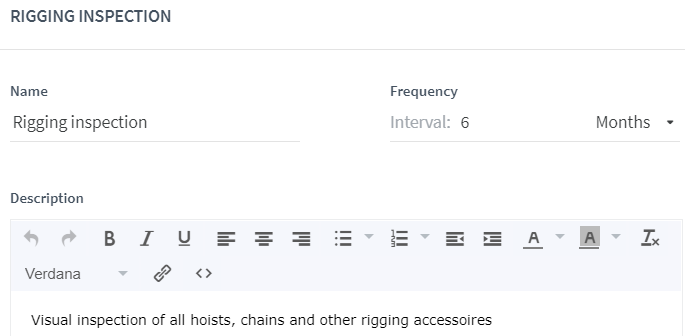 Visual crew and transport planning
The account_circle Crew planner module offers a special module with an overview of all projects with all crew and transport functions next to all crew members and vehicles. Functions and planned crew members and vehicles are all shown on a flexible timeline. Functions show if they are already fully booked or not, crew members and vehicles show availability. When planning more than 100 shifts a month for multiple projects an overview of all functions in separate projects becomes important to keep order to prevent going in and out of projects to plan for each project separately.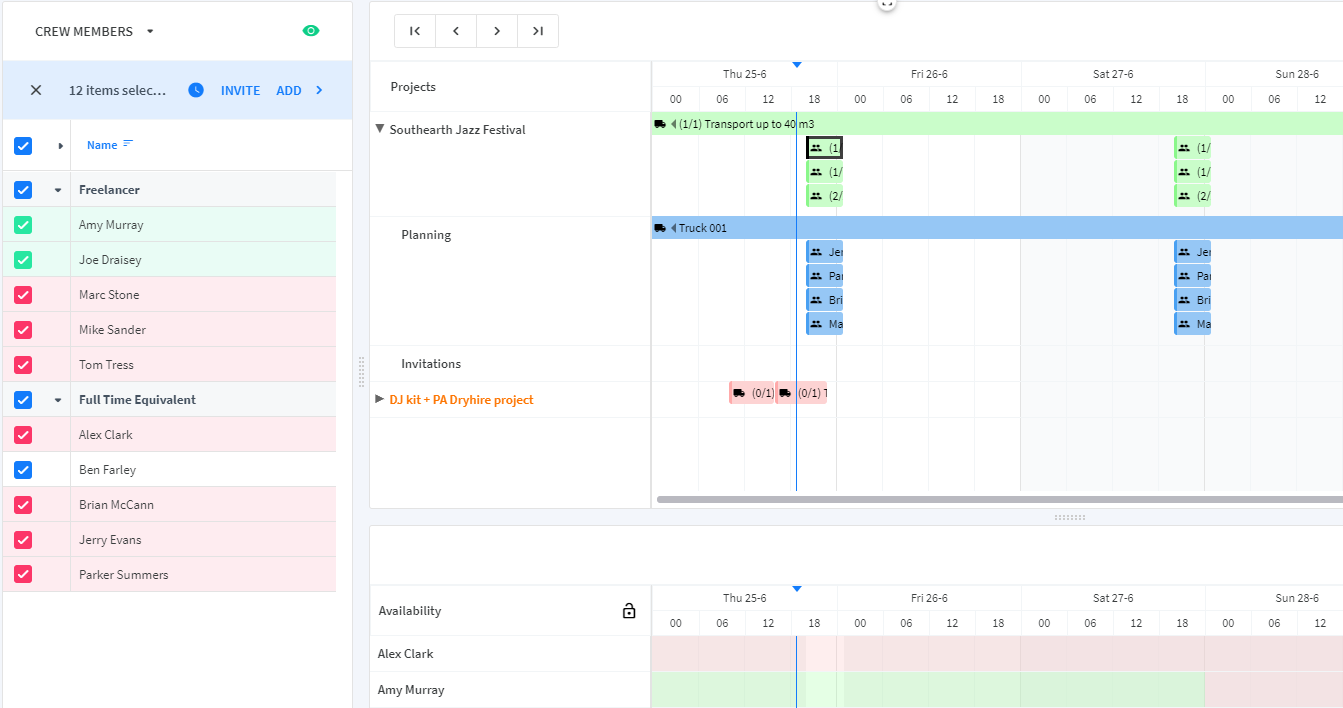 Reserve crew members
During busy weekends in high season it is important to make sure you booked the right crew members in advance. Reserving makes it possible to plan crew members without specifying a project or function.


Warehouse functionality: QR codes and barcodes
QR codes and barcodes allow you to book your equipment both from the browser and the app. When scanning in/out projects you can follow what equipment has actually gone out to location to check if you forgot to take equipment out and what went missing where.
Warehouse functionality: Warehouse management
The Warehouse module offers an overview of all projects going out and are coming back in. With drag-and-drop you can easily change the status of a project. A packing slip can be printed for each project. A digital packing slip can be opened to choose for each project if the equipment has gone out or came back in.
Classic
The Classic license is a simpler version of the Pro license, which misses some of the extended functions available in the Pro license. However, the Classic license includes all the fundamental functionalities for planning your equipment and crew, with multiple accounts being able to access Rentman.
On top of Lite, Classic offers the following functionalities:
CRM & Tasks
The contact_phone Contacts module makes it possible to keep track of all customers, locations and suppliers. Tasks and notes can be connected to contacts to keep track of what the next action should be and what is discussed last time. Tags, folders and filters can be used to quickly get a smart selection of contacts.


Customizable templates
Rentman offers a range of default templates for all document types. These default templates are great to work with or at least a good start for your custom template. The template editor offers an easy-to-use template editor making it easy to customize templates to your wishes.
Import equipment and contacts
Import your equipment and contacts from an Excel (.xlsx) or .csv file.
Repairs
Broken equipment should be repaired and often not included in the available equipment. Keep track of equipment in repair and take broken equipment out of the available stock.


Basic crew planning
The Crew scheduling tab in projects shows all crew and transport of the project and all crew members and vehicles with availability. The right crew and transport can directly be planned on these functions.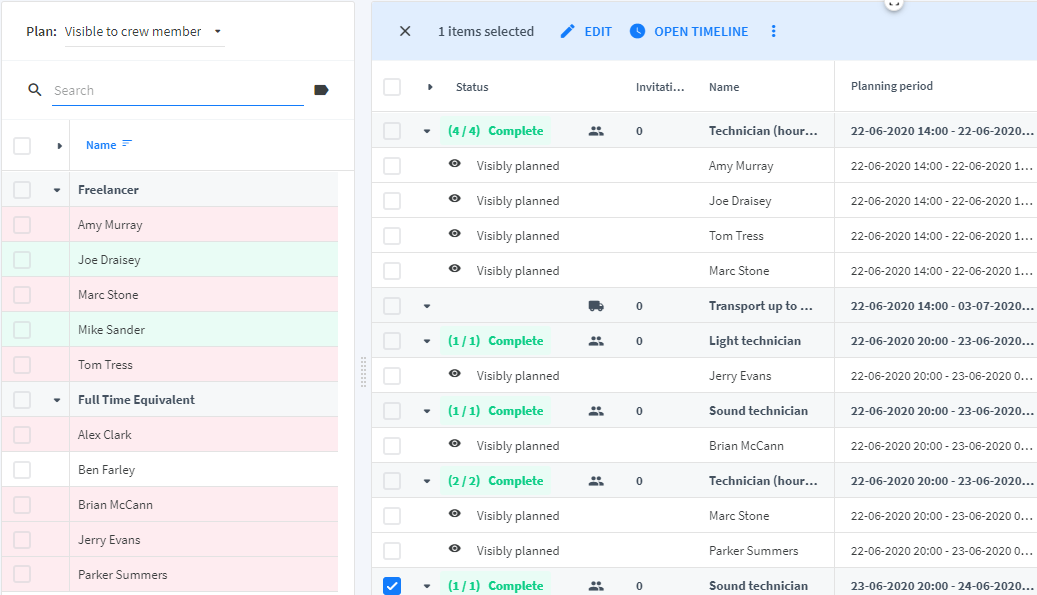 Communication
Planned crew can be informed on the planning in several ways. Clear planning overview can be sent by email with new and changed functions highlighted. The Rentman Mobile app and Rentman Web offer the event My schedule module which includes a live list of functions and appointments the crew member is planned on. Call sheets with project planning can be directly emailed to planned crew members.
Freelancer portal
Freelancers have a free login and can check their planning. Depending on the rights you assign freelancers can also check project information, the location, see who else is planned and directly mark equipment as broken.


Send invitations
Invite multiple crew members for a function to see who is available and who is not. Crew members get the invitation by email or directly in the Rentman Mobile app.
Lite
Lite has all the basics that you need for equipment planning and creating quotations for a single user. It features the following restrictions:
Limited to one user


No additional logins or crew members can be created. One person can login with a single login at max.

Limited to 100 projects every 365 days
Projects are used in Rentman to plan equipment and create quotations. If you pass the 100 projects in 365 days you cannot create new projects without deleting older ones first.

Personalize documents
You can add your logo and company information on the letterhead, and use it as the background of the documents you want.
Enterprise
The Enterprise license is based on the Pro license of Rentman, but offers specific additional options for larger companies that need to be customized for their needs. The optional functionalities include:
SLA: Service Level Agreement is a specific agreement on the Support offered by Rentman. Support Center, email and phone support are already included by default - see General Information for more information. Additional support agreements outside of the default support can be set in the SLA.
Own mail server: You can send all communications directly in Rentman using the email servers of Rentman. If you want to have full control over the e-mail sent in Rentman the solution is to integrate your mail server with Rentman. This is a custom integration.
Custom statistics: the poll Statistics module of Rentman is extended on what analysis you can do. If you need more extended statistics the best solution is to connect Rentman with specialized statistics analysis programs like power BI. This is a custom connection.
If you would like more information about the Enterprise license, please contact us.
Trial versions of Rentman
There are two available trials for Rentman:
Lite trial

Classic/Pro trial
A separate trial was made for the Lite version of Rentman, since the features available in the Lite version differ significantly from the Classic and Pro versions. If you want to trial the Classic license, simply trial the Pro license and keep in mind what modules and functionalities will not be available for you should you choose the Classic license.
Note: You can switch to another license after you've activated your account.
Note: If you would like to trial Rentman Lite next to Pro, you need to create two trial accounts. If you need assistance with creating a second account, please contact Support.
Frequently asked questions
How do I activate my Rentman account?
Please read our article about activating Rentman for more information.
How do I upgrade or downgrade to a different Rentman license?
Please read our article about upgrading and downgrading for more information.
Can I activate a Lite license after I've tried the Pro or Classic version of Rentman?
Yes, you may choose to activate any version of Rentman that you wish after the trial period ends.