You can change the settings for columns of inserted modules in the column menu table_chart of the template editor. For example, you can change the width, header text or alignment.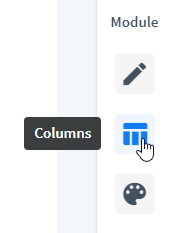 .
Add, edit, delete or sort columns
Click on a module and select table_chart

.

In this menu, you can add or delete columns to a module.

Add column: Click on "Add column" to add one. Select the right variable.

Edit column: Click on a column and change its settings (like width, header text, and alignment).

Delete column: Click on a column and click delete Delete.

Sort column: Click on the six dots before the column name and drag it to another place in the list.