If you have serialized equipment coming back from multiple projects at the same time, we have a handy time-saving solution called the "Scan return" feature. It allows you to efficiently scan and return equipment without the need to open each project individually.
Getting Started
Before you start using the "Scan return" feature, ensure that serial numbers of your equipment have QR codes assigned to them. This step is crucial for the tool to work smoothly. Read our article on how to set up QR codes for serial numbers here.
Note: Bulk equipment is not compatible with the "Scan return" functionality, only serialized equipment. To manually book bulk items back, follow these steps.
Step-by-Step Guide
Follow these easy steps to get the most out of the "Scan return" feature:
Go to the Warehouse module

In the Warehouse module, you'll find the Scan return option in the upper right corner

You can choose the warehouse to which you want to return your equipment or the warehouse where the equipment should be returned

Begin scanning the QR codes of the serial numbers on the equipment you are returning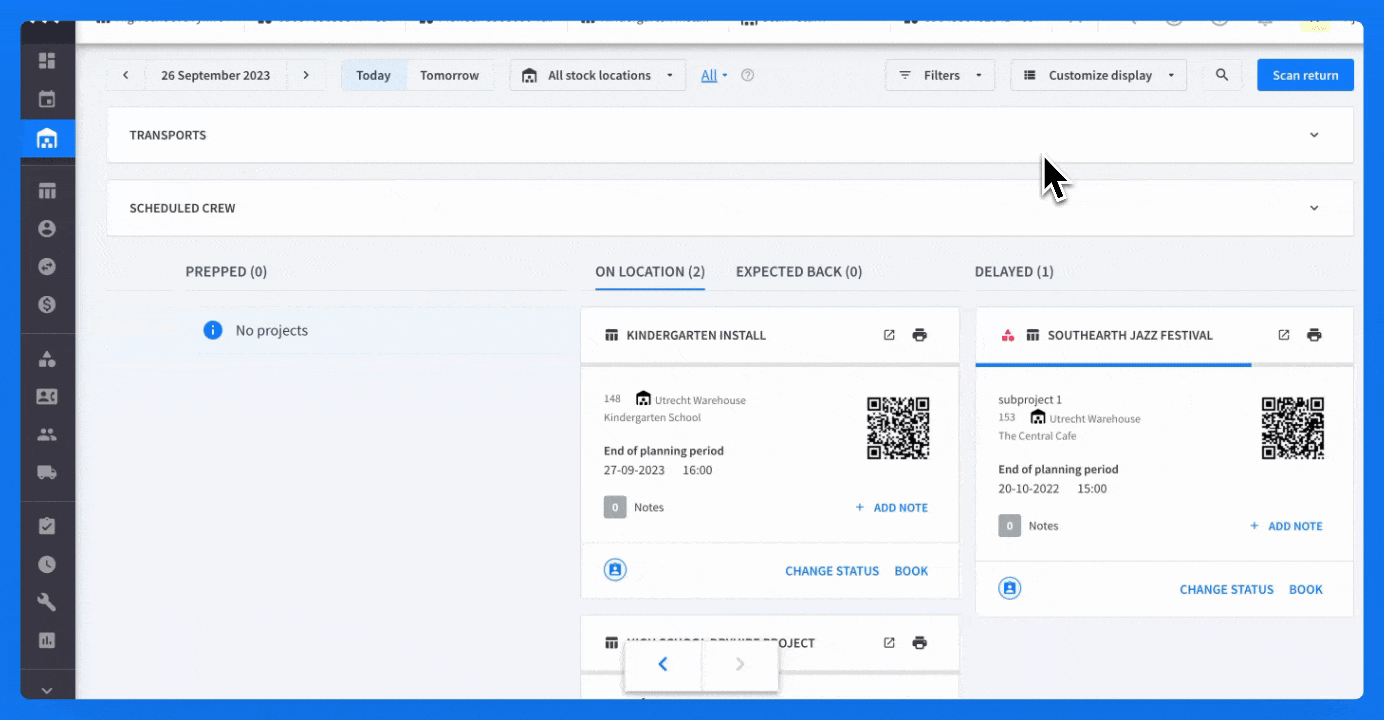 | | |
| --- | --- |
| Equipment Name | The name of the equipment you scanned |
| Serial Number | The serial number of the scanned equipment |
| Subproject | The subproject from which the equipment is booked for return |
| Project | The name of the main project from which the equipment is being returned |
| Edit Note | The "Scan return" feature allows you to include a note if needed. This can be handy for recording any specific details or observations related to the equipment being returned. |
With these scanning results at your fingertips, you'll have a clear and organized overview of your equipment return process, making it easier to manage serialized equipment efficiently.