Even though Rentman is not a CRM software program, we do offer some CRM functions. In this article, we are going to show you which parts of the software can you use for CRM, and how.
Keep an overview of your contacts
In the contact_phone Contacts module, you have an overview of all your customers, locations, and suppliers. Add and edit columns to keep track of all the information you need. You can also filter and sort your contacts to have a flexible overview.
Finally, using tags and creating your folder structure you can categorize clients the way you prefer (by location, importance, type of events, etc.)
Example of use: You are visiting a client in a specific region/city. You can filter your contacts to see who else is in that area, so you can drop by to pay your respects and keep a good relationship with them.
Tip: When adding or editing a contact, you can manage special payment terms. This helps you to always honor a certain discount or term when assigning this customer to projects.
Add notes and warnings
You can note down important information to make sure you don't forget anything. Add a note to a project or directly to a contact, and make it visible for everyone or just for the account managers.
Example of use: You just had a meeting with a client and he gave you feedback on your recent collaborations. Add a note in Rentman, so you are sure not to forget this information for your future projects.
Warnings are useful to make vital information stand out. When adding or editing a contact, go to the Data tab and add a message to the Warning field. When you add this contact to a project the message will show up automatically.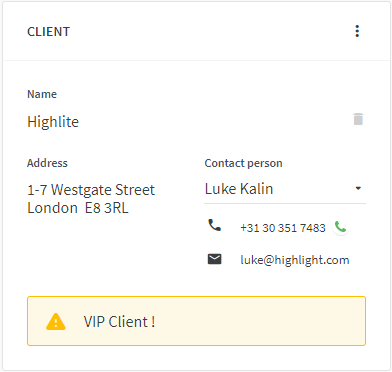 Set a reminder for you (or your crew)
Adding a task is a good way to set a reminder for you or your colleagues, like "follow up after the event" or "call back X in March". In the assignment_turned_in Tasks module, you can keep track of all the tasks done or still to-do, or prioritize your tasks adding tags and filters for more important clients.
Use Statistics to know your clients
Data is your best friend when it comes to CRM. Analyzing statistics you can get a better overview of who are your most valuable and loyal clients, or what type of event is the most profitable for you.
Examples of use: 1) Check how often you subrent equipment from a supplier, and consider if it's worth asking for a discount.
2) Spot your most valuable clients, so you know who to treat with special care
Email documents to your clients
You can email documents (quotations, invoices, contracts, etc) to your clients directly from Rentman. In the dvr Messages module you can keep track of all the emails you have sent, both to clients and your crew members.