Navigating in Rentman is mostly done using your mouse. However, there are also a lot of keyboard shortcuts that can help you to speed up your workflow. Switching between open tabs, open your search field, or switching between subprojects are just a few of the possibilities.
.
Quick Access Menu
Imagine you're swamped in work and out of nowhere your colleague wants to know some details about a project and supplies you with a project number. You of course want to switch and navigate to this project fast and easy, look up the information and continue with what you were working on.
Read here how to make use of the quick access menu.
Press "/" on your keyboard

Enter your search query. The following data sources will be included in the search:



-

Open tabs




- Projects




- Equipment




- Contacts




- Invoices




- Subrentals




- Crew members




- Repairs




- Tasks




- Vehicles

Navigate to the item by using your keyboard arrow keys

Press Enter to open the item
The shortcut list
Of course, it happens that you can forget what all the different keyboard shortcuts were. To get a list of the current possibilities, click on your name in the top right corner and select keyboard Show/hide shortcuts or simply press "shift + ?".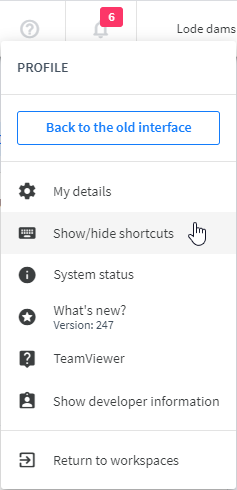 Global
Global shortcuts can be used in any of the pages in Rentman. See all possibilities below.
Open shortcut

overview


shift + ?

Quick availability lookup
Alt + /
Log out
Alt + shift + L

Switch between tabs forward
Alt + `
Switch between tabs backward
Alt + shift + `

Grid
Grid shortcuts can be used in screens where a grid is present, such as the start screen of the category Equipment module, contact_phone Contacts module and build Maintenance module.
Add new item
Alt + N
Edit selected item(s)
Alt + E
Duplicate selected item
Alt + D
Delete selected item(s)
Alt + backspace

Select all items
Alt + A
Focus on search field
Alt + F
Open timeline
Alt +

↓
Details view
The shortcuts of the details view can be used when editing an equipment item or adding a crew member for example.
Navigate to tab
Alt + number
Close / cancel
Alt + W
Subprojects
To navigate between subprojects, use the following shortcuts:
Previous subproject
Alt + shift +

↑

Next subproject
Alt + shift +

↓
Equipment & Crew and Transport tab
When editing a project in the table_chart Projects module, you can use the following shortcuts in both the Equipment tab and the Crew and Transport tab.
Fullscreen toggle
Alt + enter
Plan / add selected item
Alt + Q
Edit group
Alt + shift + E

Duplicate group
Alt + shift + D
Add group
Alt + G
Equipment tab specific
For the Equipment tab, there are several extra, specific, shortcuts.
Copy selected
Alt + C
Paste selected
Alt + V
Update virtual combination prices
Alt + Z
Update equipment data Alt + J

Add comment line
Alt + O
Add temporary item
Alt + T
Assign serial numbers
Alt + U
Crew planner
In the account_circle Crew planner module, you can use special shortcuts to shift a day forward in planning for example.
Shift a day backward
Alt + ,
Shift a day forward
Alt + .
Shift a period backward
Alt + shift + ,
Shift a period forward
Alt + shift + .
Zoom in
Alt + Z
Zoom out
Alt + shift + Z

Open legend
Alt + H
Restore function time
Alt + R
Switch visibility for crew member
Alt + U
Set function planning to visible to crew members
Alt + shift + U
Invite selected items
Alt + shift + Q