When you generate a quotation or a contract, Rentman automatically copies the price information from the project's planning. To display this information in your documents, you first have to plan equipment and add crew and transport functions.
There is no difference in how quotations and contracts work in Rentman. You can choose between using one, the other, or both - according to your company preferences.
.
Create a quotation or contract
Go to the Financial tab of your project.
In the section on the top-left, choose between Quotation or Contract.
Click on

Add quotation

or

Add contract

(Optional) check the document details, choose the subprojects to be included, and add a personal text.
(Optional) Change the default document template, letterhead, and advanced settings.
Click on

Generate




If you make further changes to your project or document settings, you need to regenerate your document before they are applied.
Your document is saved to the 'Financial' tab of your project, in the section on the top-left.
Making changes
When you make changes to your project (e.g. swapping out equipment), you might want to generate another quote to display the changes for your customer. You have three options:
Add quotation If you want to offer a new quotation and keep the old one for reference or comparison. This new quotation will have a different number. If you want your customer to digitally sign off on the new changes, a new quotation (number) is required.
Overwrite to update the quotation without changing the version or number. Use this if you are trying out different document templates or making changes before sending the quote to the customer for the first time.
Create a new version if you are sending an updated version of your quotation. The old version of the document is saved as a file in the project and the version number will increase for the updated document.
If you don't choose one of these three options, the changes you made will not be displayed in the document.
How to

o

verwrite

and create a new version
Open the document.
Click on edit Edit on the top right.
Click on

Generate

Choose between

Overwrite

and New version

Document settings
Number
The number of the document. You can use this for internal reference and for the recipient.
In the Configuration module, you can configure your number series to decide what number each document should start with.
Click 'New number' on the top of the document screen to create an additional quotation or contract for your client. This is useful to provide a client with multiple options to choose from, and all the quotations will be shown in the 'Financial' tab.
Due date
Choose the date on which this document expires.
Date
The creation date of this document.
Advanced settings
Template
Choose a
document template
for this document. The
project type
of your project determines which template is selected by default. You can, however, always choose a different template than the default one.
Letterhead
A
letterhead
is the background of a document and it can contain images, headers and footings. The
project type
of your project determines which letterhead is selected by default. But you can choose a different letterhead than the default one.
Open kits and cases
Choose whether the content of your kits and cases should be shown or hidden. You can read here how to do this when generating a document. You can set this up by default in the 'Equipment' module.
Show or hide kit content on documents
Equipment Scheduling Standard
You can show or hide the content of your kits and cases in two ways. You can set this up by default in your category Equipment Module, or you can do this during the process of generating your documents. The last one mentioned will be discussed below:
Scroll down to the advanced settings.
Click on "Open kits and cases".
Choose your option of preference.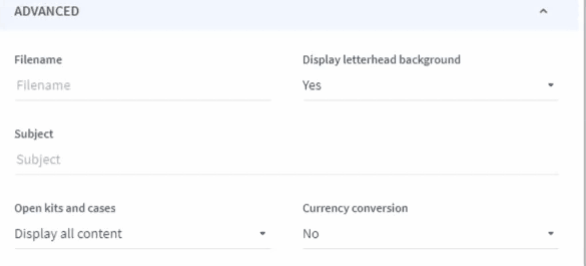 Expiration period
Each document that you generate has an expiration period. After this period, the quotation or contract is not valid anymore. By default, Rentman uses an expiration period of 14 days. However, you can change this default setting to any length you wish.
You can always manually change the expiration period of a document. This will override the default setting.
Go to the settings Configuration module > Financial > Financial.
Find the option Default expiration period quotation/contract, and fill in your desired number of days.
The due date of a document is shown on the document itself.
In the Configuration module, you can also let your clients sign documents after the expiration date.
In the Projects module, you can filter your projects by Projects with expired quotations.
Download your document
You can download your quotation or contract as a .PDF or Word (.docx) file. Click on the 'Download' icon on the top-right and choose between 'Download as a PDF file' or 'Download as a Word file' when creating a document.
Don't forget to (re)generate your document to apply any unsaved changes, before downloading your file.
Email your quotations or contract
You can email your quotation or contract directly from Rentman. You can also let your clients sign a quotation or contract digitally.
Connect terms and conditions
You can configure your terms and conditions and choose how to send them in the 'Configuration' module.
FAQs
How do I add my logo and company information to a document?
You do this by uploading your
letterhead
to Rentman.