In Rentman you have the option to add a "Digital signing" button to every document (like packing slips or quotations). When someone clicks this button, they will be led to a web page where they can sign the document. Signed documents are then saved in the "General" tab of your project.
When a customer digitally signs a quotation, the project status automatically goes from "Option" to "Confirmed".
.
Add digital signing to a template
When editing a template, drag-and-drop the "Digital signing" module (from the column on the right) to add the button.
If you drop the "Digital signing" module in a subproject section of the template, the button will only be connected to the subprojects.
To enable digital signing, go to settings Configuration module > Customer communication > Communication and in the section Digital signing, fill in "Yes" for Let customer sign digitally.
Customize digital signing
You can customize your "Digital signing" button (text, color, size, font) to match your documents' style.
In settings Configuration module> Customer communication > Communication you will find a list of options for the digital signing: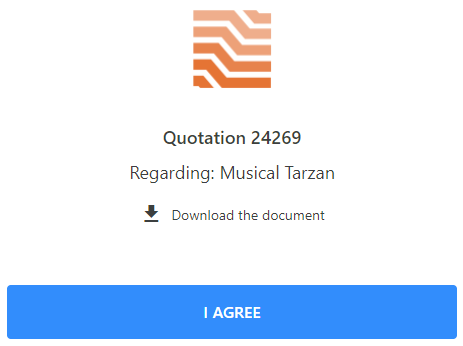 Logo (upload your company logo)
Let customers sign digitally

Customer is allowed to add comment when signing digitally

Customer may also sign expired slips